Rachel Newton
Old Cinema Launderette, Durham
13 September 2014
Ok, I knew the venue was called the "launderette", and I had even read that it was a launderette, but I was still honestly amazed to find the place was ... a launderette! Real working launderette by day, concert venue (with its own bar!) by night. I've seen it, and I still don't believe it. Look ...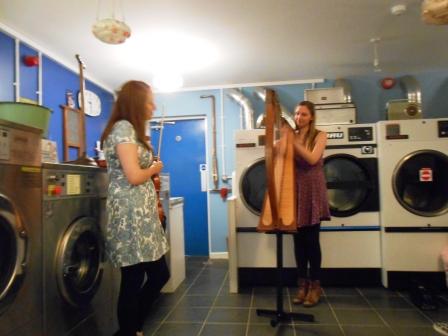 Mad or what? But also ... brilliant. Rachel (and fiddler Lauren MacColl ... and I've only just realised why she was familar to me, I saw her with the band Salt House at Folk by the Oak festival in the summer) played in a tiny room literally no bigger than my living room, standing in front of a line of washing machines (as you can see in the blurred photo above). The place is so small, I was sitting no more than five feet from the musicians.
And it was brilliant. The sound of the unamplified instruments (and voice) filled the space beautifully, just the right volume, and so perfectly clear that you could hear every tiny resonance that even the best amplification loses. This is how music should be heard.
They played for probably an hour an a half in all, split into two sets to give people time to refresh their drinks in the interval. Almost all of Rachel's new album, Changeling, was played, along with some material from her first album (Green Willow, and the mind-bogglingly fast instrumental Rung 2) plus the pibroch which appears on The Shee's A Different Season (and this really ought to get back in The Shee's live set, hint, hint), some "mouth music" (which Rachel also sings with The Shee) and, oh yes, a cover of Jolene as an encore.
The Changeling is Rachel's best work, in my humble opinion, and shows dramatic extremes of mood, from the joyful, upbeat The Changeling Reel to the achingly beautiful The Changeling Air. On CD, the music is scored for multiple instruments (which is how I first heard it at her Celtic Connections gig in February, with a full band). Here, it is obviously played by only Rachel on harp and viola and Lauren on fiddle, and yet still all the arrangements work, and I don't feel like I'm missing any instruments. Though when I watch their fingers, I think they're moving fast enough for two or three instruments each. Rachel Newtons's fingers just boggle my mind. Did I mention Rung 2? It's just insane. I can't conceive of even moving my fingers that fast, let alone hitting the correct strings with them.
And I realise I'm waffling so much about the harp (because who doesn't love harps?) that I forgot to mention Rachel's voice, which is simply pure, clear, and beautiful.
And they both seem very happy to play for us and consistently crack each other up with anecdotes from the tour. Rachel, particularly, doesn't seem to be able to introduce a song without giggling all the way through the story behind it. It's probably the most relaxed I've ever seen her in a live gig (and I've seen her ... um ... a few times), and it's nice.
So: you've probably never heard of Rachel Newton, but she's currently my favourite singer/harpist/violinst/storyteller.
I came out of the gig and walked back to the station humming everything I had just heard, and wishing it had all lasted another hour or two. Because it was the best concert I've ever seen.