Folk by the Oak
Hatfield House, Hatfield
20 July 2014
My first folk festival! First impresssions of the site are very good: it's a spacious field, plenty of interesting non-music activities (which sadly I never got to spend much time investigating, though I still somehow managed to buy a couple of books and CDs from the trade stalls as I passed) and a wide variety of food on offer (though the queues for these did get awfully long as the day wore on). The site is compact enough that you don't feel lost and big enough that the crowd of (apparently) 6000 have room to move about, with plenty of open space if you start to feel claustrophobic. (Or is it agoraphobic? I can never remember...). The event is very family-friendly, with lots of children running around (but never annoying, thank God) and apparently enough activites to keep them occupied. And quite a lot of young (adult) people, actually, much more than I am used to seeing at rock gigs. Folk music seems to be trendy these days.
And of course the setting is beautiful, surrounded by the trees of the Hatfield House grounds. I never got to see the house itself, but apparently it's there behind the trees and you can to go in to look round if you feel like it (what, and miss the music???)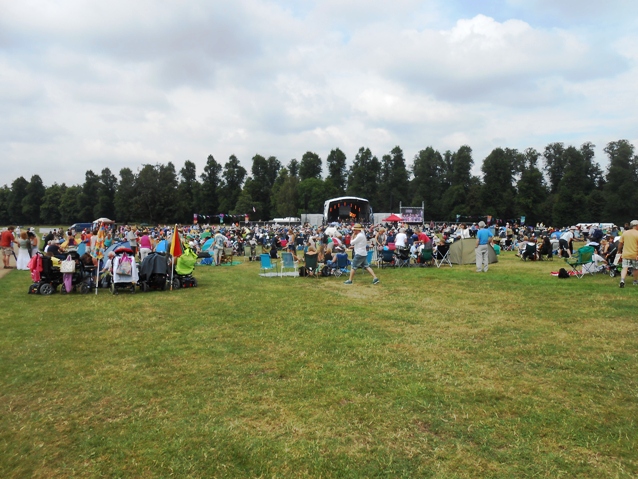 I arrived as the gates were opening and got inside with about half an hour to explore the place (and buy a t-shirt, obviously) and find something to eat and drink before the music started.
There were two stages, the "Acorn" stage inside a big tent at the back of the field having short sets from "up and coming" young bands while the main stage was being changed over between bands. This is great in theory, it means non-stop music with no scheduling clashes, but in practice it doesn't work like that. For a start, there's quite a walk from the Acorn stage to the main stage, so if you want a good spot for a particular band you have to miss part of somebody's set. Second, as the festival timings inevitably slip, the two stages' acts begin to overlap.
So, the music starts with a short set from the London Youth Folk Ensemble on the Acorn stage. This is a large group of talented youngsters playing a random variety of instruments (plenty of fiddles and guitars but also a bassoon in the mix), and I listened to them while sitting in the sun outside the tent eating lunch bought from one of the many food stalls.

They only played 15 minutes, leaving five minutes to walk rapidly down to the main stage for the opening act there, Josienne Clarke & Ben Walker. It's a good way to start the afternoon.
Clarke & Walker are both young but apparently have been playing together for several years, releasing their first CD last year. She sings and he's a very talented guitarist with a very clear classical influence in his style, and for this show they are joined by a string quartet and several other musicans. The music is very good, mostly slow, moody songs with thoughtful lyrics. Most are self-written, but they throw in two Sandy Denny covers which Josienne Clark sings perfectly. Yes, she has that kind of voice. Stunning.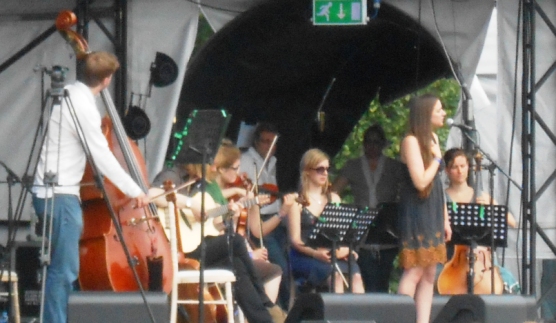 I rushed back to the Acorn stage for a second set from the London Youth Folk Ensemble, because I still foolishly thought I would be able to see everything, but left there early to get back to the main stage again for the second main act.
Catrin Finch and Seckou Keita play pedal harp and kora (West African harp) respectively, and the sound is mind-blowing, the similar yet distinct tones of the instruments harmonising beautifully in a set of incredibly complex, multi-layered, syncopated, almost jazz-like tunes. Absolutely amazing, and worth the price of admission for this set alone. Two incredible musicians.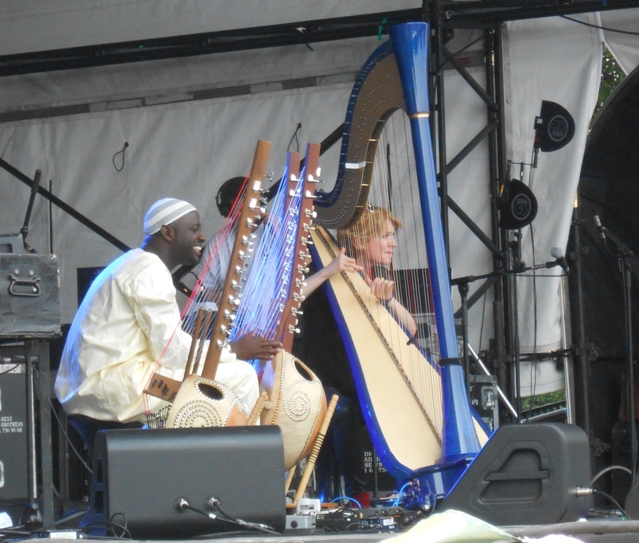 I skipped the next act on the Acorn stage in order to get a better position by the main stage. Up till now I had been fairly far back (well, maybe 20 yards from the stage) and off to one side where there was room to spread out and sit down, but as each act finished the crowd of people standing right at the front dispersed to do other things, giving space for me to move up to place myself right against the rail (slightly left of centre) for the band I had really come to see.
I don't know how a set of songs can feel like old favourites after only hearing them live once a few weeks ago, but that's exactly how I felt when The Elizabethan Session's Rachel Newton picked out the opening harp riff of The Shores of Hispaniola, joined by Hannah James's clogs tapping a counterpoint, then the vocal, then the rest of the band slowly coming in to build to that incredible wall of sound ... I got a feeling like I get when my favourite rock bands take the stage. This is the group I came all this way to see, this is the song I came to hear. Truthfully? This harp riff is why I'm here, and this is now officially the best concert I have ever seen. Don't ask me to explain it, some music just does that.

The Elizabethan Session play a shortened version of the set I saw the other week (just under an hour). Which meant they didn't play everything I wanted to hear, but they played enough to show again how diverse and multi-talented they are as individuals and as a band, no two songs sounding remotely similar, every one sounding beautiful. If I am completely honest, it's a less polished performance than the last time I saw them, but I don't care, it's a perfect set of songs and I love this band. This is supposed to be their final performance together, which is an absolute tragedy.
I also don't want to miss the next band, and as timings already seem to be drifting out I skip the Acorn stage again and wait at the front for Kathryn Tickell & The Side. This is a new project for Kathryn Tickell, but I actually knew some of the music from her previous work, though never before sounding quite like this, as her Northumbrian pipes and fiddle are accompanied by harp, cello and accordion (Amy Thatcher from The Shee, who I have written about once or twice, on accordion and also clog dancing). It's an unusual combination but sounds fantastic, and the whole set is just brilliant, uplifting, danceable music. It started raining — I mean, *really* raining — in the middle of their set, but nobody cared and nobody moved. Northumbrian pipes: best instrument ever.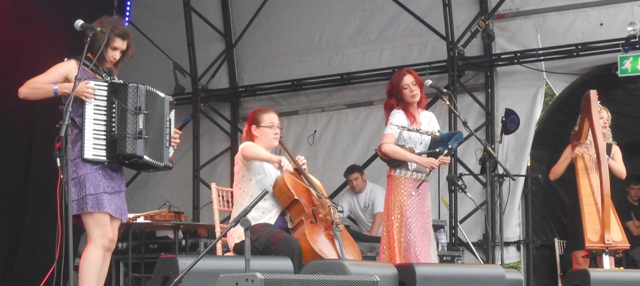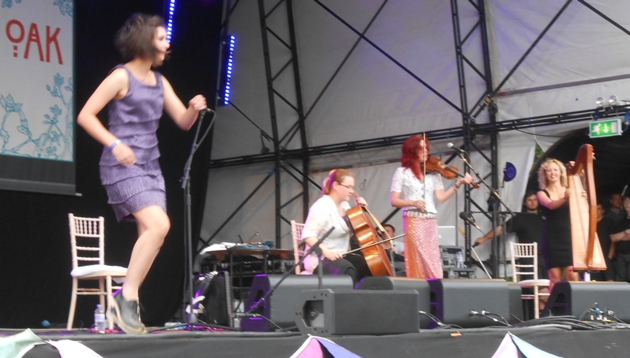 Another stage change-over, and this time I took the opportunity to stroll to the other stage and caught the set from Salt House, a young Scottish quartet who play a beautful set of songs. The instruments are harmonium, guitar, fiddle, and double bass, the lead vocals are quite unmistakably Scottish, and most of the songs seem to be modern but still have a distinct traditional Scottish sound. I'm glad I didn't skip them (or their CD, which were selling like hot cakes afterwards).

Beth Orton is on the main stage next, and though she's an accomplished singer and guitar player her songs don't really enagage me. The crowd loved her (most of them seemed to know all the words to her songs), and I can see why, but she's not for me. So I wandered back to the Acorn stage before her set finished, in time to see an incredible band called Kenston Cobblers' Club, five young people who play a variety of instruments including tuba and full drum kit, and actually have the whole tent singing, clapping, and even dancing along to a set of amazing, up-tempo, fun music. They work the crowd so well, they deserve be on bigger stages. It's impossible not to love them and their music, and I would love to see them again.
Richard Thompson on the main stage, incredibly, isn't the headline act, though the man who introduces him does say he's "the main attraction (sorry Seth)". He is alone on stage, and he jokes about his band not turning up (he jokes a lot; he has a very amiable, intimate stage personality that makes you forget he's a god in the folk pantheon). But his songs don't need a band, his voice and his guitar is enough. I don't know everything he sings, but I love all of it. It's not just brilliantly played, it's all extremely emotionally engaging even when I don't know the songs. (But the emotional highlight of the set? Who Knows Where the Time Goes. Sniff.) He's just simply a superb song writer, not to mention an incredible guitar player. He plays longer than anyone else so far — an hour and a quarter — and to be honest it's not long enough.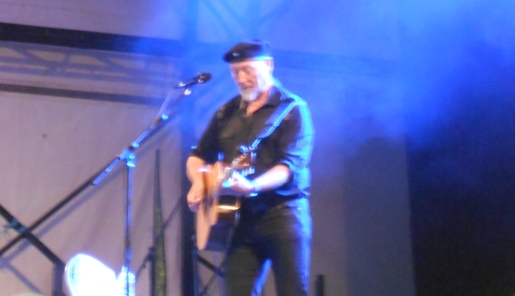 My knees are complaining about all the standing, so I find a (mostly) dry patch to sit on and wait for Seth Lakeman.
Lakeman deserves his top billing. He and his band are extremely good, but more importantly he works the crowd the way a festival headliner should. His songs are all up-tempo, driven by guitars and drums, and it feels more like a rock gig than a folk gig. (I think we can safely call him folk rock, even though the expression may be unfashionable these days.) It's only when he picks up the fiddle that he reminds us he's a folk musician really, and to be honest the fiddle-led jigs are the songs that work best for me. But I can't find fault with his music or his performance, and the mass of people bouncing up and down at the front of the stage obviously agree with me. Great though Richard Thompson was, *this* is a headlining act.

And then it all finished with a massive firework display!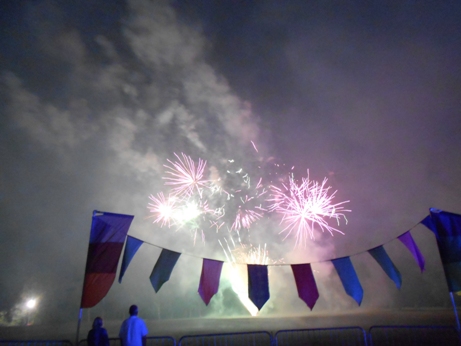 A suberb day in all respects. Even with the rain. And the sunburn. And the bad knee. And the blisters. And the travel and tiredness. It was all worth it. Best concert I've ever seen.
(Excuse the poor quality photographs. Especially this one, which is my final view as I'm walking away from the site. The picture's terrible, but the memory is important...)