Magnum
Odeon, Birmingham
13 December 1985
(Thirty Years Later)
Sadly, my memories of this gig are very hazy thirty years later. It was six months after my first concert (which I recall as clear as anything, in great detail), and I wasn't really planning to see any more bands. I was a Deep Purple fan, and that was who I was going to follow for the rest of my life.
I was aware of Magnum. They had just had a minor hit single off the back of their most successful (and, to most fans today, best loved) album, On a Storyteller's Night. I had heard the album and thought it was pretty good; powerful, emotional songs delivered by an incredible singer.
So, a school friend who was then at university in Birmingham, and knew I was getting into rock music, got in touch and said he had a spare ticket for Magnum and did I want to go?
And so I found myself at the Odeon in New Street (I think it's a cinema now) watching my second ever rock gig.
Bought a t-shirt on the way in, of course. Because you're supposed to: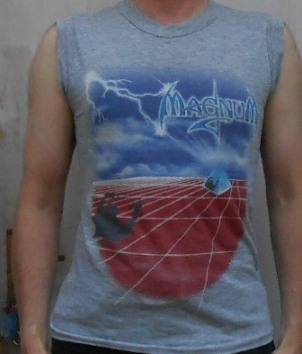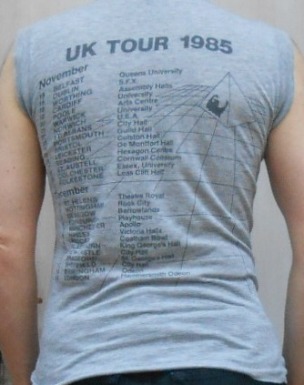 There were two support bands. The first was called The Alliance, I think. I have no memory of them and don't recall ever hearing of them again. The second was IQ, who I know still exist and are something of a well-regarded neo-prog band, but at the time I thought they were absolutely terrible.
Looking back on it, I don't think the Odeon had a great sound, and so probably didn't do IQ any favours. We were sitting up near the back of the balcony, and the sound was ridiculously loud, over-saturated, distorting and bouncing off the back wall behind up. Really bad. It's a miracle that any of the bands sounded good.
But then Magnum came on, and maybe they also didn't sound good on the night, but I was hooked regardless.
I don't recall the set list. I wouldn't have known most of the songs anyway, other than the new Storyteller's material. I do know they played their single, Just Like an Arrow. They played How Far Jerusalem, and On a Storyteller's Night, which is now one of my favourite songs. And, introduced with "This song has always been, and will always be, our [indicating the whole hall] song" (I remember that very clearly), they played something called Sacred Hour.
And three things I took from that Magnum concert:
The first is that their songs are just extraordinary. Slickly crafted rock songs that you want to sing and clap along to, but with an emotional core that lifts them above other bands' clap-along anthems.
Second is that Bob Catley is an incredibly charismatic performer. Apart from his voice, which I thought was one of the best in rock, his live stage presence was compelling. He doesn't just sing the songs, he emotes them, pantomimes them with exaggerated expressions and gestures that mean you can't take your eyes off him. And so much energy! I think the stage had ramps that led up to a platform at the back, and he spent the whole gig racing up and down them.
And the third thing is how much Magnum's fans love them. I didn't know at the time that they were effectively playing to their home crowd, but I could feel the atmosphere in the hall, feel the adulation pouring out of the audience and on to the stage.
The atmosphere was amazing. Different to what I had felt at Knebworth six months earlier, but something I wanted to experience again.
So now I had two favourite bands to "follow". And so here I am thirty years later, still following, still seeing Magnum every year, for that one Sacred Hour...